What do diversity & inclusion mean to us?
We believe that diversity and inclusion are relevant to all areas of our work: from recruitment to performance appraisal; in our day-to-day behaviour internally and in external interactions; and from the inputs of our Economists to our Partners.
At CEPA we aim to build and maintain a diverse and inclusive environment which:
Nurtures and retains the best people, regardless of ethnicity, religion or belief, gender, sexual orientation, age, disability or gender identity.
Empowers all staff to perform at their best, and help one another excel through active collaboration, challenge and inspiration.
Champions inclusive values both internally and externally, and challenges cases that aren't consistent with these values.
Supports and respects a balance between personal and professional lives, and which fosters mutual respect.
What is our vision of success?
There are several commitments that we collectively make to drive continuous improvement:
Ensuring our interactions with others appropriately consider their needs.
Treating issues related to workplace discrimination with appropriate seriousness.
Treating each other with consideration and respect, including having regard to possible unconscious biases.
Fostering an environment at CEPA where we feel a sense of belonging and inclusion.
Maintaining a culture where people are encouraged to share thoughts, ideas, and concerns.
Recruiting the best people to meet CEPA's needs regardless of background.
What have we done to work towards our vision of success?
Our existing activities that support our Diversity & Inclusion strategy include:
We offer a flexible working policy that allows for hybrid working arrangements and recognises the benefits of work-life balance. All staff are able to choose their own working hours around a core period, and staff can request further flexibility, subject to approval.
Every new joiner has a dedicated 'buddy' to help them settle in at CEPA.
All levels of staff are invited to contribute to conversations around the running of the business.
We host a Diversity & Inclusion Working Group that is open to all staff members - this includes a director-level sponsor for diversity and inclusion.
All members of staff are required to perform unconscious bias training, to increase awareness.
We maintain support systems for staff wishing to confidentially discuss or raise any issues or concerns.
We implement a 'blind' recruitment process – in other words, we evaluate candidates without using information about educational and socio-economic backgrounds, until the interview stage. This objective approach helps us to recruit the best people.
Alongside our blind recruitment process, we have implemented a diversity and inclusion survey to learn about our applicants. Applicant responses are anonymised and not used in the recruitment process, but are instead used to help us understand where we can improve our processes.
We are proud to be a certified Disability Confident Committed employer. This means that, among other commitments, we endeavour to support and make adjustments for all applicants and staff with disabilities. As part of the scheme, we are offering job-shadowing opportunities for potential employees with disabilities.
We offer enhanced sick pay that goes beyond the length of statutory levels for longer beyond statutory levels, to ensure that those who fall ill.
We offer an enhanced maternity pay scheme.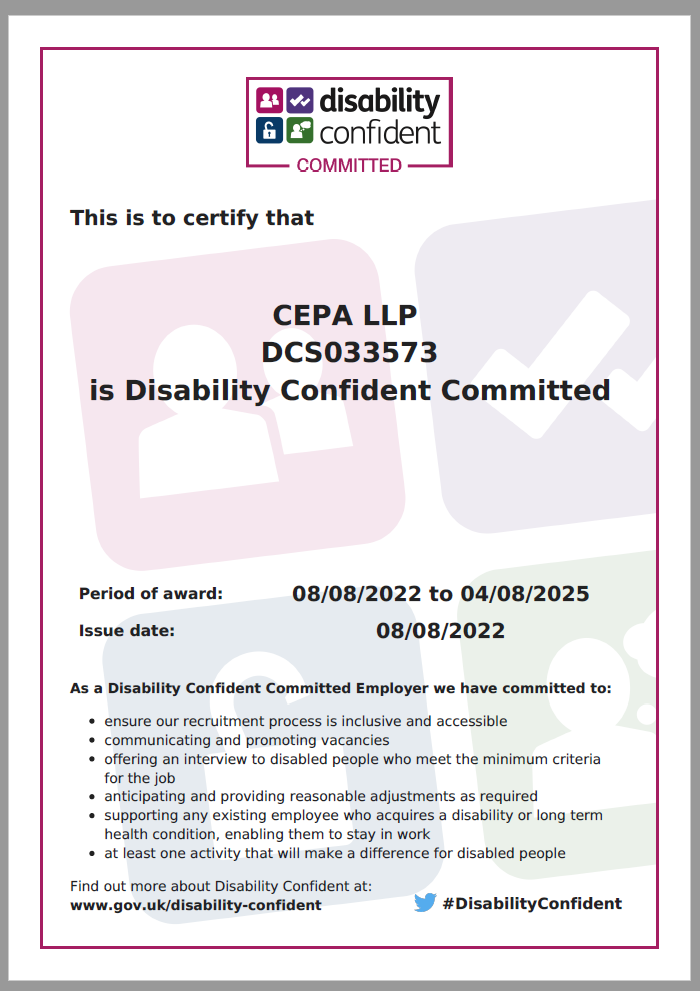 The direction we take on Diversity & Inclusion is inspired by our Corporate Social Responsibility (CSR) Policy and accompanying Action Plan, which is published online. The plan is reviewed and changed annually to focus on a different area. This year (2023/24), our CSR theme is Socio-economic Mobility.
To find out more about diversity and inclusion at CEPA, please contact Will Edmonds by email at will.edmonds@cepa.co.uk or telephone +44 (0)20 7269 0210.
"We understand that developing and maintaining diversity and inclusion requires proactivity, self-awareness, and commitment."
September, 2022
D&I Working Group